Enjoy your own peace
next to Hossa National Park
Hossa is located in the northern part of Suomussalmi, in the province of Kainuu. There are good connections via national roads, and nearest airport is located in Kuusamo (60 minutes by car).
The flight from Helsinki takes about 60 minutes.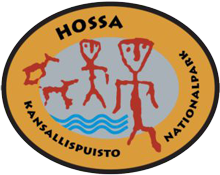 The magnificent wilderness of Hossa is an excellent destination: the trails running along pine heaths invite you to hike and cycle, and the crystal-clear lakes to go canoeing and fishing. The rock paintings of Julma-Ölkky and Värikallio depict stories of shamanism, dating back thousands of years.
The cottages of Loma Hossa are spread around the village, and in each you can enjoy your own peace. Swimming is possible straight from the sauna. There is a rowing boat also at the beach (remember, that licence is required).
Our three apartments and the main building are located at Rajakartano. The former border guards' housing has been refurbished for the use for tourism. There is also wireless internet access. The smoke sauna and hot tub are available for you to book separately if you like.
Nearby, you can find cozy restaurants serving delicious meals in the local style. You can also book half board or full board plan to suit for your needs.
All of our accommodation facilities have electricity and are located in 1-3 km radius from the Hossa National Park. 
We offer you versatile and diverse possibilities for refreshing  and hiking, and provide you with great customer service and assistance.
Enjoy Your Holiday in the Wilderness!